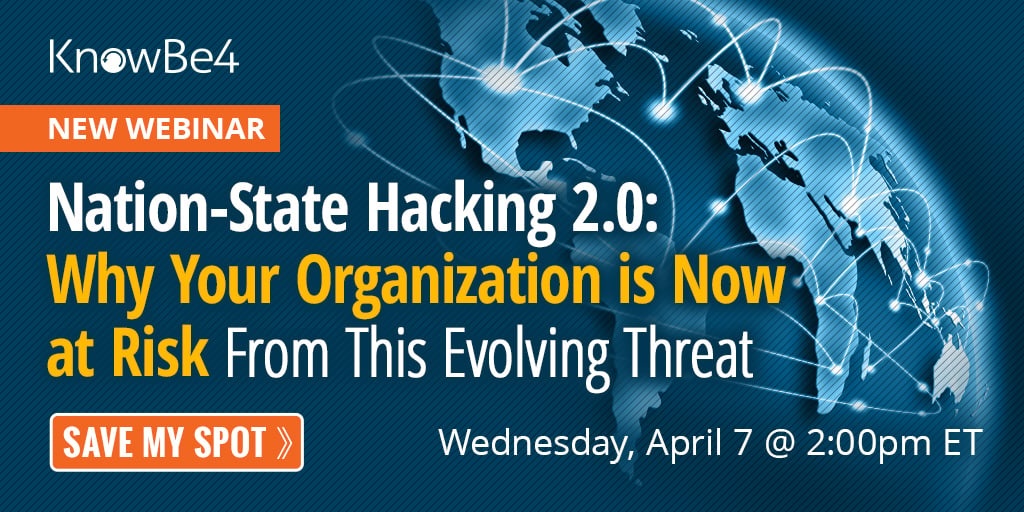 Security professionals have worried about cyberwarfare for decades. But the attack on Sony Pictures, the Solarwinds supply chain compromise, and now the latest Microsoft Exchange zero-day exploits show that nation-state attacks are having a much bigger impact than ever before.Don't let the big names fool you. Today, any organization is fair game, which means your organization could be next.

Join Roger Grimes, KnowBe4's Data-Driven Defense Evangelist to find out how these attacks are evolving and why organizations like yours are their new target.
In this webinar you'll learn:
The history of nation-state attacks and how they're changing
Why these attacks now impact organizations of all sizes and industries
How you can mitigate the threat of nation-state attacks
Why it's critical to empower your organization's human firewall
You did not sign up for this, but the digital cold war is here. Find out the strategies you need to implement now and earn CPE credit for attending.
Register by April 7th @ 2:00 PM ET!
Don't like to click on redirected links? Copy & paste this link into your browser: https://event.on24.com/wcc/r/3084535/6A0B16FE9B84D751880C83C1F3B0D732?partnerref=blog