Here are important fresh content updates and new features to share with you that happened in the month of March.
KNOWBE4 PRODUCT UPDATES
NEW! Enhance Your Users' Learning Experience with Optional Learning
We are excited to introduce the new Optional Learning feature within the KnowBe4 platform. Optional Learning enables you to offer your users additional training content from the KnowBe4 ModStore. Simply create specific training campaigns with the optional training content you would like to make available for your users to self-select.

Once you push these training campaigns live, the training content is added to your users' Learner Library tab within the KnowBe4 Learner Experience interface. You now have the ability to add a variety of training content and supplemental reinforcements that help your users take an active role in their security awareness education with the flexibility to choose what training they want to take and when. Your users can click on a training content tile in their library and will be able to view the course descriptions pulled directly from the ModStore.
With Optional Learning You Can:
Provide additional training content you would like to make available to your users outside of mandatory training, including your own SCORM-compliant custom content
Track your users' engagement and completion progress of optional training content to help gauge interests in topics and preferences for future training campaigns
Set up different Optional Learning training campaigns based on roles, groups, or other performance metrics
Use the KnowBe4 gamification feature as part of your Optional Learning initiatives to encourage friendly competition among users. Your users can earn extra badges as they voluntarily choose to learn more about being more security-aware
Ready to see what cool optional learning content you can offer your users?
Sign up for a preview of KnowBe4's ModStore and check out 'The Inside Man' series!
Don't like to click on redirected links? Copy & paste this link into your browser:
https://www.knowbe4.com/inside-man

---
FRESH TRAINING CONTENT BY PUBLISHER
KnowBe4
Six new posters were added this month by KnowBe4 that cover a variety of security topics including passwords, how to handle sensitive information, and general security awareness reminders.


Poster titles include:
Ahhh, Secure at Home!

You Just Saved the Day. You Used the Phish Alert Button!
When in Doubt, Check it Out!
Stop! Look! Think!
Pump Up Your Password Strength!
Sensitive Identifiable Information: If You Handle It, Protect It!
All KnowBe4 posters highlighted this month are available across Silver, Gold, Platinum, and Diamond subscription levels.

---
The Security Awareness Company (SAC)
SAC added 14 new pieces of training content to the ModStore in March.
April 2021 Security Awareness Newsletter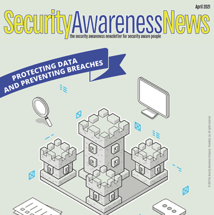 We're one click away from a malware infection. One lost smart device or one misplaced badge away from unauthorized access. One bad password away from compromised accounts. In short, security incidents are rather easy to come by.
In this edition, Protecting Data and Preventing Data Breaches, teach your users what their role is in protecting access to sensitive information within your organization and what steps they can take to prevent data breaches. The newsletter and complementing scavenger hunt questions are both available in 18 languages.
---
Security Bytes Video Series
A new short 8-episode video series from SAC delivers security awareness basics in a quick, bite-sized format and covers highly relevant topics from passwords, phishing, physical security, Personally Identifiable Information (PII), incident reporting and more.

---
Other training content titles from SAC this month include:
The Most Common Types of Cyberattacks
Security Awareness Foundations
How to Create Strong Passwords with Quiz
Working from Home: Securing Your Home Office
All training content from The Security Awareness Company is available at the Diamond subscription level.
---
Popcorn Training
Fourteen new pieces of training content from Popcorn Training were added to the ModStore in March.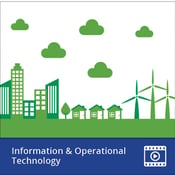 Information and Operational Technology
As an organization we need to know our role when it comes to staying safe.
This brandable training module looks at the changing environment of information and operational technology and the resulting security threats.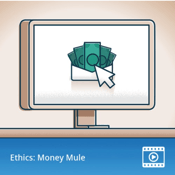 Ethics: Money Mule
Don't let the bad guys recruit you to clean their dirty money! Even if you are unaware that the funds were obtained illegally, you could be prosecuted for being a money mule and committing fraud.
Use this brandable training module to teach your users how to steer clear of being tricked into becoming a money mule.
---
New Australian Training Modules
Three new brandable training modules on the Australian Data Privacy Act and the role of the Australian Cyber Security Centre (ACSC) are now available.

Titles include:
Introduction to the Australian Privacy Act

Cyber Awareness Basics for

Australians

Australian Notifiable Data Breach Scheme
---
Other content from Popcorn Training include eight new security documents and one poster from Popcorn Training. Titles include:
Secure Connected Devices
Spot a Deepfake
Spot Fake News
User Multi-Factor Authentication
Use a Password Manager
Deal with Mobile Scams
Deal with Sextortion
How to Set Up a Virtual Private Network
How to Series with Tyger Punch Security Poster
All Popcorn Training content is available at the Diamond subscription level.
---
exploqii
Two new video modules from exploqii were added this month.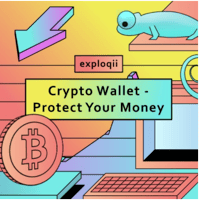 Crypto Wallet - Protect Your Money
Alongside currencies such as dollars and euros, cryptocurrencies are increasingly important. But if you already pay with bitcoin, or want to in the future, you should observe a few security rules.
Beware: Cybercriminals have already developed scams for grabbing the virtual wallets of unsuspecting users. This video shows how you can protect your digital money against hackers and your own mistakes.
---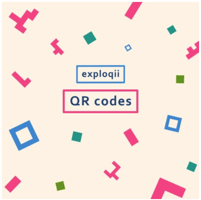 QR Codes
Quick Response (QR) codes are practical and make you curious. You have surely seen them in advertisements or promotional posters and know that you can scan the characteristic patterns with your smartphone.
But are you also aware of the dangers that may lurk behind QR codes? This video module explains when and why QR codes become dangerous and how to protect yourself against them.
All exploqii content is available at the Diamond subscription level.
---
Saya University
A new training module from Saya University was added in March.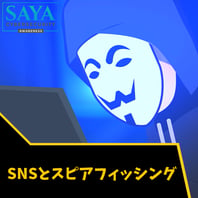 Social Networking Site (SNS) and Spear Phishing
In this brandable training module, hackers are seeking to target a major Japanese electronics maker named Saya Electronics via LinkedIn.
A salesperson who attends a trade fair is targeted by the hackers to gain insight and information to help conduct spear phishing attacks on Saya Electronics. Learn how the hackers can increase their chance of success when their emails seem legitimately related to the conversation at the trade fair.
All Saya University content is available at the Diamond subscription level.
---
FRESH NEW TRANSLATIONS
In addition to fresh new training content, you want content localized to the language needs of your organization and users. That's why in addition to constantly updated and new content, KnowBe4 releases fresh new translations regularly to the ModStore.
Check out the new translations added to the KnowBe4 ModStore:
The 2021 Danger Zone training module from KnowBe4 is now fully localized in 34 languages.


Restricted Intelligence Season 7, Episode 1 "Working from Home" video module is now available in 10 languages.
In the month of February, 93 new translations were added for the following training content categories:
Newsletters/Security Documents/Posters: 36
Games/Assessments/Training modules: 45
Video Modules: 12
---
Ready to see how you can build a mature security awareness training program using great, fresh content from the KnowBe4 library?
As of March 29, 2021 KnowBe4 has:
1,265 Pieces of Education and Training Content

319 Interactive Training Modules

462 Video Modules

216 Posters and Artwork

242 Newsletters and Security Docs

26 Games

Over 8,000 Phishing Templates
To see the full list of new content added this month and an inside look into the KnowBe4 platform,
sign up for the Modstore Training Preview
today!