Check out the content and feature updates in the KnowBe4 platform for the month of July!
---
KNOWBE4 FEATURE UPDATES
Localized Learner Experience
We are excited to announce the availability of KnowBe4's new localized training interface option for your users!
Currently available in 15 local languages, your users now can choose the language they're most comfortable with for their entire training interface, helping deliver a more immersive training experience.
This localization enables your users to experience training in their native language as well as participate in the gamification feature where they can earn badges and compete with others in the organization on the leaderboard, also in their language of choice.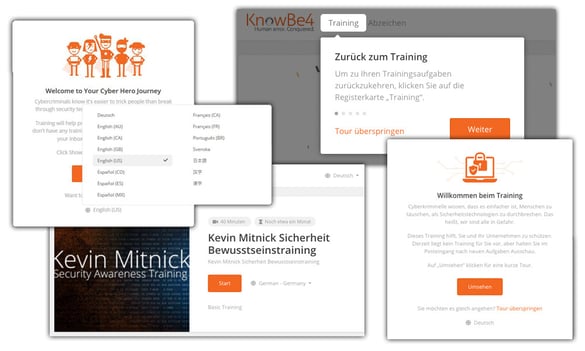 This new feature is available across all subscription levels.
Learn more on how you can take advantage of this cool new feature when implementing your security awareness training program within your organization!
Don't like to click on redirected URLs? Cut & paste this link into your browser:
https://info.knowbe4.com/kmsat-request-a-demo
---
[New PhishER Feature] Identify Email Threats Even Faster with PhishML
We are excited to announce the availability of PhishML™ as part of the PhishER platform to all PhishER customers.
PhishML is a new machine-learning module that helps you identify and assess the suspicious messages that are reported by your users, at the beginning of your message prioritization process. PhishML analyzes every message coming into the PhishER platform and gives you the info to make your prioritization process easier, faster, and more accurate.
PhishML is constantly learning based on the messages that are tagged, not only by you but also by other members of the PhishER user community! That means that the learning model is being fed new data to constantly improve its accuracy and more messages can be automatically prioritized based upon PhishER's categorization, saving you even more time.

For more information read the blog post here:
https://blog.knowbe4.com/new-phisher-feature-identify-email-threats-even-faster-with-phishml

Ready to Get PhishER? Request Your Demo Now!
With automatic prioritization of user-reported emails, PhishER saves your InfoSec and Security Operations teams lots of time.
Don't like to click on redirected URLs? Cut & paste this link into your browser:
https://info.knowbe4.com/phisher-request-a-demo
---
TRAINING CONTENT UPDATES BY PUBLISHER
The Security Awareness Company (SAC)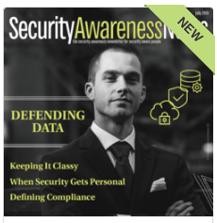 We live in a connected world where sensitive data has effectively become currency. As such, understanding how to protect that information has become an imperative part of our daily routines.
The July SAC Newsletter covers the importance of data classification, then dives into what cybercriminals do with stolen data, and wraps up with compliance regulations and their impact on our lives both professionally and personally.

OWASP TOP 10 Course - New 5 Part Series
This highly interactive and technical course is aimed at developers, programmers, and anyone who encounters the types of vulnerabilities listed on the OWASP Top 10 List. The 80-minute full length course is now available as a 5-part series, for your end users to take the course in smaller increments of time. The course is broken it up into 5 mini-courses with new topic summaries and updated quiz questions.
All
5 of these courses
are now available in the ModStore and include:
Course 1 - Introduction
Course 2 - OWASP Issues A1-A3
Course 3 - OWASP Issues A4-A6
Course 4 - OWASP Issues A7-A10
Course 5 - Conclusion
SAC also added
4 new video training modules
this month and include Clark the Funtime Phisherman covering topics on fake emails, vishing, and whale phishing. The other video added highlights Multi-Factor Authentication explaining how it works and why it's a more secure option than simply using a password.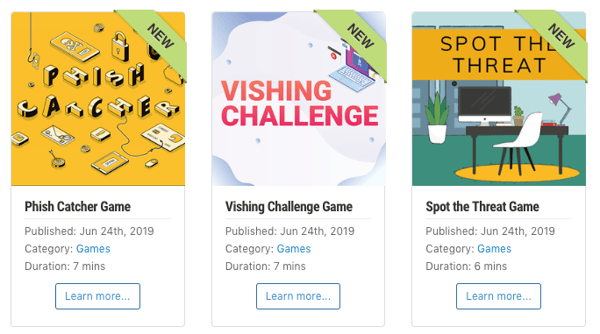 The video modules include:
Clark the Funtime Phisherman: Phishing with Fake Emails
Clark the Funtime Phisherman: Phishing with a Phone
Clark the Funtime Phisherman: Whale Phishing
Multi-Factor Authentication
Additionally,
two new Security Documents
and
two new posters
were added that include:
Security Documents:
10 Common Traits of Phishing Emails
Phishing From...
Posters:
Phishing Fundamentals
NIST Password Guidelines
All Security Awareness Company content is available at the Diamond subscription level.
---
Twist & Shout
The Inside Man: Season 1 Episodes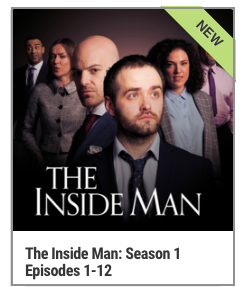 All 12 episodes of The Inside Man series have been
combined into a
single 80-minute video module
which is now live in the ModStore.
So grab that popcorn and binge away.......
The Inside Man is KnowBe4's first custom network-quality video series that delivers an entertaining movie-like experience for your users and makes learning how to make smarter security decisions fun and engaging.
From social engineering and passwords, to social media and travel, The Inside Man reveals how easy it can be for an outsider to penetrate your organization's security controls and network.

All Twist & Shout content is available at the Diamond subscription level.
---
exploqii
This month, exploqii adds
2 new video training modules
covering risk and email encryption.
Risk Culture
Risks are unavoidable. The key is how people deal with them. After all, embracing a risk culture
is the only way to guard a company against damage. This video module highlights why
your employees should become familiar with the pillars of the company risk culture.
Email Encryption
Emails contain sensitive data and must be protected against third-party access. This particularly applies in the professional context. How can you achieve this? Using various forms of encryption with the most common forms of encryption covered in this video. Protect your company by making your employees familiar with this important topic.
All exploqii content is available at the Diamond subscription level.
---
Syntrio
Two new training modules have been added by Syntrio and address workplace harassment for employees and managers.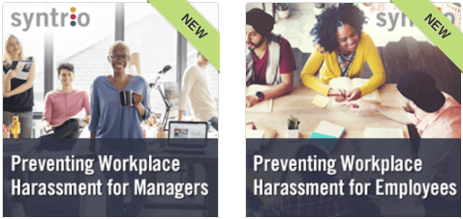 Preventing Workplace Harassment for Managers
This course offers strategies for preventing unlawful workplace harassment. It teaches managers and supervisors how to respond appropriately when learning of a complaint and discusses the risk of liability to both the company and the manager if he or she fails to stop harassment or personally engages in harassing behavior.
Preventing Workplace Harassment for Employees
This course teaches employees about the human characteristics that are protected by anti-discrimination laws and conduct related to protected classes that can lead to a claim of unlawful harassment. It also discusses the steps employees can take to prevent workplace harassment and what to do in the event that they witness or experience it.
All Syntrio content is available at the Diamond subscription level.
---
El Pescador
El Pescador has added
4 new video training modules
to the library this month and cover topics ranging from ransomware, phishing, and safe internet surfing.
All El Pescador content is available at the Diamond subscription level.
---
Want an all-access pass to the most comprehensive security awareness training content? With a Diamond level subscription, see how much is available for your training needs!
As of August 6, 2019 KnowBe4 has:
933 Pieces of Education and Training Content

238 Interactive Training Modules

217 Video Modules

279 Posters and Artwork

178 Newsletters and Security Docs

21 Games

Over 3,000 Phishing Templates
To see the full list of new content added this month and an inside look into the KnowBe4 platform,
sign up for the Modstore Training Preview
now!